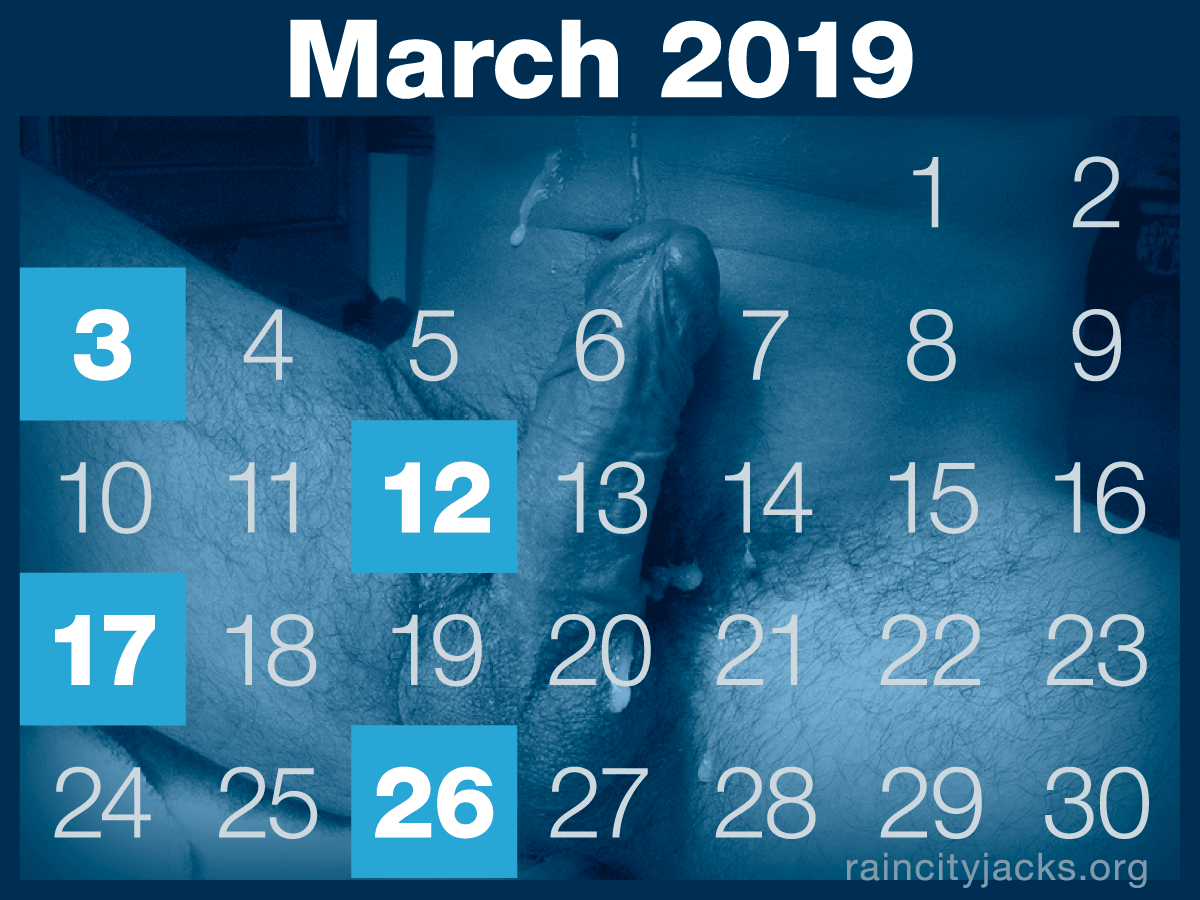 MARCH 2019
RAIN CITY JACKS MONTHLY UPDATE
---
---
FIRST: ALL THE EVENTS
1PM SUNDAY, MARCH 3
Sorry. This one already happened (and was attended by 73 men). Onward!
7PM TUESDAY, MARCH 12
COUNTDOWN! is the signature Rain City Jacks event that facilitates simultaneous orgasms for virtually every man at a Jacks gathering. We convene as usual and a voiceover track guides you to spurt along with your buddies. It's an intense, unique experience that draws all the boys to the yard. Details are here. Do not miss this popular Jacks gathering, rescheduled from February.
1PM SUNDAY, MARCH 17
Sunday afternoons have regained their designation as the most attended meetups we offer. Come out and join your brothers from near and far for an afternoon eruption of sticky spunkitutde. Details here.
7PM TUESDAY, MARCH 26
Spring has returned to the PNW and you've had a 9-day timeout from the RCJ playspace. Are you ready to return to the bate circle for the male bonding we all love and deserve? We know you and you know us… The manjuice will be popping plentifully. See the details here!
---
---
LOCATION FOR ALL RCJ MEETUPS
---
---
SF JACKS SEEKS NEW PLAYSPACE
ORIGINAL WEST COAST JACKS SUSPENDS OPERATIONS
It's happened before. JOClubs are not the most complicated groups to make happen, but we all share a persistent common challenge: Location Location Location. RCJ is currently in the fifth home of our existence and will certainly have to hunt for new digs someday. The latest group to find themselves on the search for an appropriate place for a hundred bators to bate is SF Jacks, serving the men of the Bay Area since 1983.
If you've never visited our friends in SF, keep an eye on their site and plan a trip for their triumphal return. We have no doubt that the "Floundering Fathers" will emerge with an amazingly grand re-opening.
---
---
SLATE / QUEERTY / GQ / MensHealth
MAINSTREAM MEDIA OBSESSED WITH
STRAIGHT BUDDY BATORS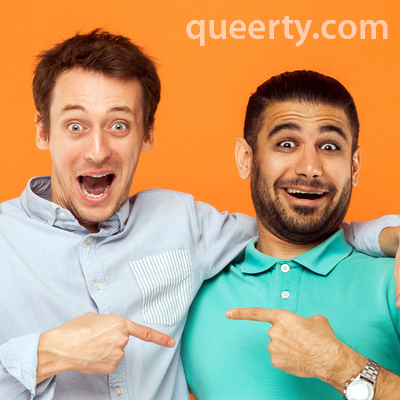 They're on to something and they know it. Major online media has gotten wind of the truth that one needn't be gay to enjoy a healthy portion of manual male bonding online and IRL.
It started with SLATE's article, Helping a Brother Out, the piece that alerted the world to the fluidity of men who bate with men and sincerely identify as straight. Anyone who regularly attends Jacks knows that orientation is kind of a moot point when connecting as we do is going on. It's a hard concept for many to grok, made clear in the comments section of QUEERTY's follow-up piece. It's a fun read, whatever your take on the phenomenon but if you attend Jacks anywhere, you can rest assured that one of the guys attached to the perky peen you've been enjoying is more hetero than you'd ever suspect.
Now comes GQ with Why Straight Men Are Joining Masturbation Clubs, a wide-ranging (if directed at a naive readership) exploration of the phenomenon of straight-but-not-narrow bate buddies. Paul Rosenberg, founder and ops manager for Rain City Jacks is interviewed and extensively quoted in the piece and our club got a lot of attention. The RCJ web site has blown up with a record increase in views starting the day the GQ article was published (and after Queerty once again piggybacked on a big source of clicks).
And then came our friends in the UK (always up to acknowledge what we in the US find so shockingly newsworthy) with its own recap of the other articles, again drawing heavily on the Rain City Jacks web site. Read Why More Straight Men Are Visiting Masturbation Clubs on their web site.
---
---
Go to the Rain City Jacks web site for the complete RCJ calendar, the RCJ Code of Conduct, membership details and answers to our most frequently asked questions.