Rain City Jacks hosts between two and five monthly group jack-off events in an open play space, including multiple areas where members can kick back or lie down with a buddy as well as ample space for standing and roaming. Furniture is covered with clean, softened canvas for comfort. Lube (Albolene) is always within easy reach and portioned in individual cups for cleanliness and convenience. Paper towels and moist wipes offer quick cleanup. Mouthwash and soap are stocked in two bathrooms. The dressing area provides 100 day lockers and space for socializing. Loaner padlocks are available on a first-come basis. RCJ makes it easy for men to show up, get naked and masturbate openly with like-minded fellows. We provide everything you need. All you need to do is get yourself here and join.
Why Join The Jacks
Comfortable & Safe
The Jacks is a place for men to explore mutual masturbation together without fear of harm or disclosure. You'll find a relaxed and comfortable place where you feel safe to expose yourself, experience social sexuality and intimate friendship. We believe that sex should be fun and satisfying.
Real Sex, No BS
RCJ members know the difference between cruising and connecting, fantasy and reality. Hookup apps can leave us fantasizing alone more often than they connect us with actual humans. As a Jacks member, you make physical contact with living, breathing men, not just the tease of technology.
Mutual Respect
RCJ welcomes men of all ages and persuasions, bound by our common desire for group masturbation and the commitment to respect the club and each other. We never tolerate cruelty, disrespect, or unwanted touch. While providing a space for all, we allow each member to be the man he is and find the buddies that appeal to him. Mutual respect is at the core of our culture.
Drug & Alcohol-Free
Events are alcohol- and drug-free so you're intoxicated only by the abundance of men and sexual energy. Members may indulge after, but those who arrive impaired are asked to come back another time. Ensuring that everyone in the room is fully present adds to the sense of security and safety to engage with each other as equals.
A Safer Option
A Jacks event is about the safest kind of sex you can have with another human. Our community standards make STI transmission at our events vanishingly unlikely. Jacks members have the opportunity to give and receive intense sexual pleasure with hundreds of men every year and walk away unscathed. That's one hell of a sweet side effect.
An Online Community
COMING IN 2022! We are working on bringing a members-only network to our web site: an online community where Jacks can connect with each other outside club events.
Membership Options
Trial Membership
A membership in the club for 30 days includes one event, and the opportunity to attend as many as three more! Admission to each additional event after your first is $15 for the duration of your thirty days. Short-term membership is perfect for visitors and out-of-town guests, as well as first-timers checking out the club. You may get one 30-day membership a year. When it's done, just re-up with an annual membership for up to 36 more Jacks events.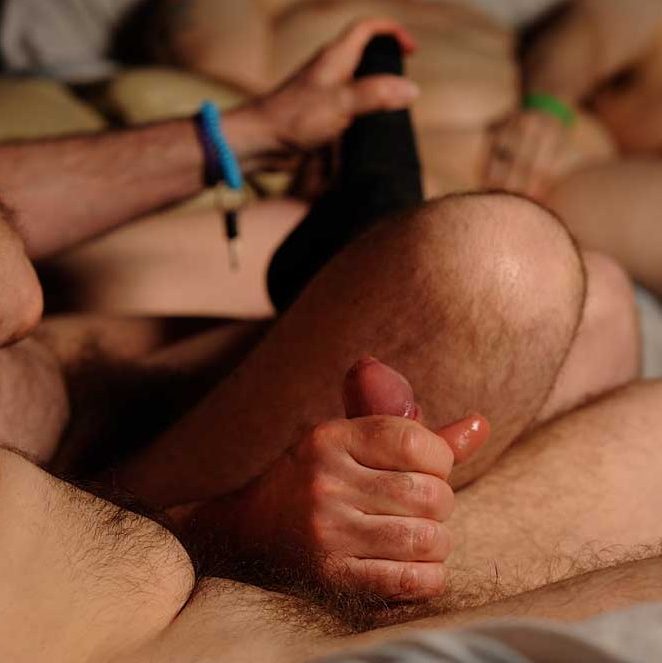 Annual Membership
A one year membership in the club that you can renew annually. Your first event of the year is included free, and each additional event is only $15 admission. Annual members qualify for RCJ event discounts with membership in one of our affiliate organizations, and military members/veterans get a lifetime reduced event fee. Annual members also qualify for free admission to any event by sponsoring a new member or volunteering for the club.
All You Can Handle
The All-You-Can-Handle pass includes $25 for annual dues, plus $200 for prepaid admission to every event for one year. For frequent attendees, this option offers both membership and prepaid admission to up to 36 events and potential savings of up to $340. These premium members don't have to hassle with cash and attend Jacks events by just presenting their current membership cards.

How To Join
RCJ IS NOT AN ONLINE CLUB. It's a real world, real life experience of actual men with physical bodies you can see and touch and share with mutual consent. The only way to activate your membership is in person… but we need you to enroll online first.
FIRST-TIMERS MUST ENROLL ONLINE (click the link) to become members of Rain City Jacks. Your enrollment information remains "pending" verification for 30 days and is activated when you show up and verify your identity with your ID and pay your fees. If you don't show up within 30 days, your info is automatically deleted.
SIGN UP NOW (click the link) if you're a new member and planning on coming to the next event! If you don't do it before you show up, you'll need to do it on your phone when you show up.
ON EVENT DAY, Show up with your driver's license or state-issued ID and cash, credit or debit card ($20 for Trial, $40 for Annual or $225 for All You Can Handle). Once verified, you'll receive a brief new member orientation session. Then, you can stow your clothes in one of our day lockers and join the fun! Please read the membership agreement and code of conduct before you sign up.