Themes
At the end of April, 2016, we conducted a survey of the men on our email list, which includes both RCJ members and non-members. The purpose of the survey was twofold: First, to determine what theme we would present for the fast-approaching May 3 event and secondly, to take the pulse of the membership and prospective new members on the general feelings about themes to help the club better plan our calendar.
Before the results, here are some preliminary numbers to give you a sense of the sample and the method.
1,367 subscribers were sent the survey email.
457 subscribers opened the survey email (~23% of email subscribers).
92 respondents took the survey (~23% of those who opened the email and 4.6% of all subscribers).
That means that over 95% of subscribers did not express any opinion. Of that group, more than 3 out of four never opened the email… That's a different issue we'll deal with later.
So, we used the sample of men who did open the email and complete the survey. A small sample of guys got to speak for all of those who didn't or couldn't. That's really how all research goes so we went with it. Research isn't democracy… A few always speak for the many. Here are a few of the findings.
Of the 92 who responded, 78% have actually been to JO clubs and 55% are current, active attendees. 22% have never been to a JO club (but they subscribe to our email so they're assumed to be interested).

7 out of 8 who have experienced a theme night either generally like themes or at least like some of them, and don't express negative feelings about themes.

3 experienced respondents expressed—in very clear terms—that they don't like themes and find them distracting or annoying.

6 respondents stated that they like all the themes and don't have any particular preferences. Another 14 guys answered questions referring to specific themes they "enjoyed," themes that "enhance(d their) experience of a group jack-off party" or specified "one theme (they) would most look forward to participating in."

3.2% Don't like themes.
21.7% Like themes.
75.1% Did not answer or had no experience.
And the winner is…
COUNTDOWN tied for the most popular theme for those 20 who expressed a preference, with 11 respondents stating they enjoyed it and 5 stating it was the single theme they most looked forward to. Nobody mentioned anything negative about the Countdown events.
UNDERWEAR tied for most preferred theme with 11 respondents stating they enjoyed it, that it enhanced their experience or was the single theme they preferred… but 2 respondents specifically stated they do not like the underwear events. So while we will certainly continue to have underwear and jocks straps for themes, for the immediate purpose of this survey, the few "thumbs down" votes served as a tiebreaker.
Interestingly, for those men who have not yet attended any themed events or experienced any JO club at all, Underwear was the #1 preference, with 8 respondents stating that this particular theme sounds more interesting than the others.
We specifically wanted to find out what guys who had never been to any jack-off party were thinking because themes are often more appealing to men contemplating their first visit than they are to longstanding members, and we're always interested in helping curious guys make the leap to becoming first-timers. Offering interesting themes is a way of attracting new members.
The most common request for enhancing events was porn video playing in the background. 3 suggested it specifically. Another repeated suggestion was masks, with two suggesting it generally and one specifically suggesting "mardi gras-style" masks.
4 guys who've never been to a JO club suggested poppers. Sadly for these guys, poppers aren't permitted under our "no drugs" policy, and any possible exception was squashed long ago when members expressed resounding preference for a poppers-free JO club.
Theme Preferences Ranked
Since the survey was free-form rather than multiple choice, respondents could write in whatever they liked including multiple entries based on experiences from other clubs as well as RCJ. Here is the breakdown of all specifically mentioned themes that respondents mentioned positively.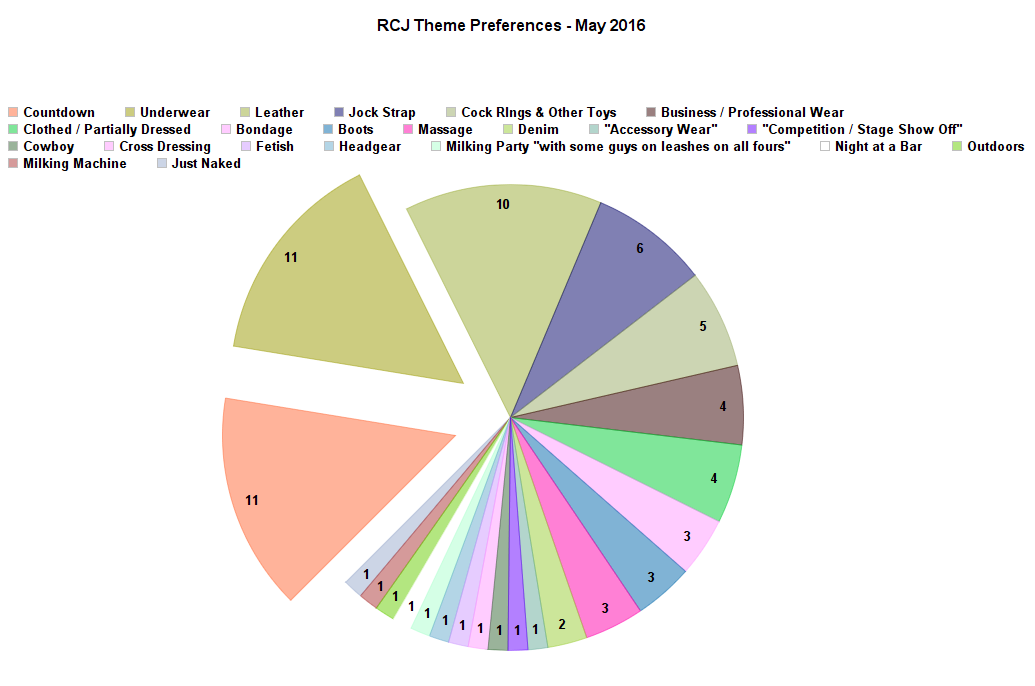 This chart does not take into account any negative comments made about any themes. Very few specifics themes were called out as detracting from the Jacks experience, except for two mentions of underwear and one each of jocks and business wear, including comments expressing a preference for no themes and just being naked.
Five reasons why we will continue to host themed events:
7 out of 8 respondents actively like themes and find their experience of the Jacks is enhanced.
Prospective members considering their first visit to the club are excited by the idea of themes.
Most events are theme-free. Two out of three events RCJ hosts are "essential" events with no themes at all for the purists who just want to get naked and JO.
At least three of our yearly themed events have no fetish, clothing or kink attached. Those include the Anniversary Event, when we have free admission in place of a theme, and the two Countdown Events, which simply offer an option to help members ejaculate in groups and are otherwise just naked guys jacking. That means that under the current schedule, only 9 events a year have a wearable theme. That leaves 27 "just get naked and JO" parties. Considering how many of our members express a preference for themes, this is pretty solidly weighted toward the purists already…
Every themed event is optional. While we may encourage participation with free passes, nobody is ever required to participate in any theme, and at every event, no matter how much guys participate in the theme, there is always a majority of members who are just naked.
Findings
Most of our members like having themes from time to time. A small number prefer no themes, and they get to enjoy theme-free events at 75% of our events. The nine fetish-related themes we host change things up, give new members something exciting to look forward to and fantasize about, and give existing members an opportunity to try out something they may have been curious about.
Guys who have been to the Countdown event, and who understand and get into it, love this theme. It's exclusive to Rain City Jacks. No other club does this yet… but in 2014, after many years of hosting Countdown regularly, we dropped it to just twice a year, once in January and once in August. We did it less because it seemed there was less participation. We could only guess that either few members understood the theme or how it worked (our own failing to communicate the rules of the game) or else it was happening too often and had gotten boring.
Judging from the last Countdown, nobody was bored. It was amazingly hot. So because we agreed to give you what you asked for, May 3 is officially a bonus Countdown event.
For all of our members, and all of the curious, one thing remains steady at every RCJ event: You can always get naked, find jack-off buddies, lube up and stroke yourselves to orgasm openly, simply and without fear or shame. Themes are fun for most but the bottom line is, they're just a small enhancement to our core activity of masturbation and mutual masturbation. Remember that, don't take anything too seriously and we'll look forward to seeing you soon.